Textile & Dyes Industry
At Synder Filtration, we aim to help our customers improve the quality of their products through cost effective ways that are compliant with regulatory standards and have low environmental impact. Our membranes have gained notoriety over the past few decades in the textile and dye industry because of their ability to purify, extract, and concentrate many of the detergents, chemicals, and oils used throughout the manufacturing process to remove dirt, improve knitting, and bind dyes to fabrics. With a wide spectrum of pore sizes available, these membranes have been particularly useful in applications such as the desalting of dye to stabilize products during storage, concentrating dye, and effluent treatment for product recovery and reuse in textile manufacturing processes.
---
Challenge
Solution
Case Study
Specsheets
Resources
Synder also offers a comprehensive application development program including feasibility testing for newer specialty process applications. Please contact us for more information. You will receive a personal response from one of our experienced team members within 24 hours.
Applications
---
CASE STUDY
---
questions?
Fill out this form. We'll contact you within 24 hours!
---
Resources
MEMBRANE RESOURCES
Module Configurations & Processes
-> View all membrane resources
---
TUTORIALS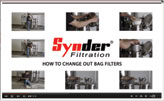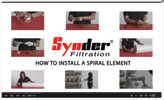 ---