Testimonials
Fonterra Co-Operative Group™
"Synder membranes have formed a key part of Fonterra's membrane operation over the last 8 years. What stands out for Fonterra is the consistency of membrane performance and first class support that Synder continually provides to our remote plants throughout New Zealand and elsewhere around the world."
Mark, Fonterra Co-operative Group Limited.
---
GEA™
"We had an opportunity recently to help a customer in dire need of some membrane elements there in Northern California. The customer required a same day delivery of some 60 UF elements prior to a USDA inspection of the plant. We were able to accomplish this with your help and quick delivery. The order was processed quickly, and one of your people offered to drive them there that afternoon.
By delivering the elements the same day, crisis was averted. It was a challenge well met and deeply appreciated. Special thanks to Jerry and Anabel as well for their great efforts.
Thank you again for helping us with this customer in their time of need. It seems today when we are all stressed and need quick solutions, they can still happen."
Mark, GEA Process Engineering Inc.
---
American Showa Inc.™
"The paint we are feeding my Ultrafiltration system from Synder Filtration ran dry for a period of 36 hours, leaving the membranes stagnantly filled with cathodic paint. From my knowledge of the usual damage caused by little or no paint flow in ultrafiltration membranes, I assumed the membranes would be fouled beyond repair.
In an effort to try and salvage any life left in the elements, we flushed the membranes with the remaining permeate in our storage tank and cleaned the membranes for 5-6 hours with sulfamic acid solution. After restarting the system, the resulting permeate was initially low (10GPM), but enough to run our paint line.
We were pleasantly surprised to find that over the next few hours the membranes actually recovered to produce over 18GPM of permeate. Given the length of time the system was shut down, this was an incredible recovery and serves as an excellent example of these membranes resistance to fouling from cathodic paint."
Chuck, American Showa Inc.
Applications
---
questions?
Fill out this form. We'll contact you within 24 hours!
---
Resources
MEMBRANE RESOURCES
Module Configurations & Processes
-> View all membrane resources

---
TUTORIALS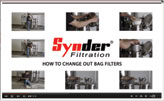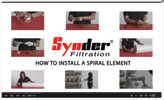 ---