Food & Beverage
Over the past 25 years, Synder Filtration has become a leading supplier of membrane filtration technology to companies throughout the food and beverage industry. We take pride in partnering and collaborating with our customers to forge new and innovative ways to create quality products and lower operating costs. Our line of elements has expanded throughout the years with a wide range of molecular weight cut-offs available for applications such as corn wet milling, juice processing, and gelatin concentration. We are committed to helping companies optimize their existing processes and take pride in fully understanding the needs of our customers in order to produce membranes and systems suitable for their separation needs.
---
Challenge
Solution
Case Study
Specsheets
Resources
Synder also offers a comprehensive application development program including feasibility testing for newer specialty process applications. Please contact us for more information. You will receive a personal response from one of our experienced team members within 24 hours.
Applications
---
CASE STUDY
---
questions?
Fill out this form. We'll contact you within 24 hours!
---
Resources
MEMBRANE RESOURCES
Module Configurations & Processes
-> View all membrane resources
---
TUTORIALS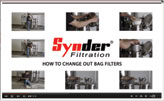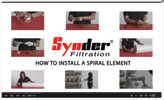 ---