FAQ
Categories
---
ELEMENTS/ADDITIONAL PRODUCTS
1. What is the average shelf life of Synder membranes?
Flat sheet membranes and spiral-wound elements, if stored correctly, have a typical shelf life of 6 to 12 months.
2. How can I determine if an element is compatible with a specific chemical?
Please follow this link to access our chemical compatibility tool. This tool allows users to input chemicals that may be found in their feed solution and determine the resistivity of the element to them. It is important to ensure that all materials used in element construction (permeate tube, membrane, ATD, etc.) are compatible with the chemicals within the feed solution.
If the chemical you are looking for is not listed, or if the concentration is higher than shown, please contact Synder Filtration directly for more information.
3. What is the difference between a sanitary element with and without a "tail"?
To further improve the fit of the element in the vessel, Synder Filtration offers a "trim-to-fit" outerwrap version. This is referred to as a "tail" option for sanitary elements only. Since the inner diameter can sometimes vary between vessels, this allows for a customized fit for each vessel.
4. Do you manufacture other products besides filtration elements?
Yes, we also specialize in manufacturing anode cells, which can be used in combination with our V-Series electrocoat UF elements for automotive paint processes. In addition, we have cleaning chemicals and pretreatment options to use along with our filtration elements.
5. Does Synder manufacture RO membranes?
Synder does not manufacture RO membranes. Currently, we manufacture nanofiltration, ultrafiltration, and microfiltration membranes, as well as anode cells and systems.
---
FEASIBILITY TESTING
1. I have a new application, but I'm not sure if I can use membranes for my process. Do you provide testing services to determine if membrane filtration is feasible for my application?
Why yes we do! Synder Filtration offers both feasibility testing services and pilot study program. Feasibility tests are done on-site at Synder HQ using either a flat sheet test loop or 2540 pilot system… READ MORE
---
STORAGE/INSTALLATION
1. How do I precondition flat sheet membranes prior to use?
1. Remove the new flat sheet from its storage bag and ensure that the flat sheet has not been damaged or tampered with. Look for any scratches, wrinkles, and/or deformities that could hinder performance… READ MORE
2. How do I store my elements after use?
A. 6 MONTHS OR LESS (SHORT TERM)
Immediately following the final CIP flush, the system should be filled with 1% Sodium Metabisulfite (MBS) solution with a pH of 4.0-5.0. Every 7-10 days the following procedure should be performed… READ MORE
3. How do I properly install a spiral-wound element?
Depending on the element type (sanitary or industrial), we offer two different sets of guidelines for correctly installing our spiral-wound elements. These are included in each order, but can also be downloaded below or found on our website under Resources… READ MORE
---
PROCESSING CAPABILITIES
1. What happens if the element is pushed beyond the inlet pressure, or pressure drop limits?
Membrane integrity can be compromised if the element is pushed beyond recommended operational limits. Operating the elements beyond the maximum inlet pressure and pressure drop may cause telescoping to occur… READ MORE
2. What are the maximum total solids that a spiral element can handle?
Synder currently offers diamond feed spacers ranging in thickness from 31 to 80mil and ribbed spacers available in 46mil and 80mil thicknesses. The following chart shows the total solids limits for dairy products based on feed spacer type.
Dairy Product Total Solids Limits
Spacer
Products
31mil
46mil
65mil
80mil
Sweet Whey Max. T.S.
15
25
28
30
Acid Whey Max. T.S.
15
24
26
28
Skim Milk Max T.S.
14
24
26
28
Whole Milk Max T.S.
15
30
33
35
*Note: Trials should be made to determine temperature and viscosity effects.
3. What's the difference in performance v. cost of polymeric v. ceramic membranes?
Module Type
Advantages
Disadvantages
Spiral-Wound Polymeric Membranes
-Low cost less per square meter
-Less energy to operate
-Small footprint
-Robust designs to prevent membrane breakage
-Low capital/operating costs
-Must reduce TSS to a minimum to prevent plugging of membrane
-Moderate product life
Ceramic Membranes
-Tighter pore size distributions
-More consistent pore sizes
-Long product life
-Able to handle aggressive temperature and pH conditions
-High capital/operating costs
-Large footprint
---
WARRANTY
1. How does Synder handle warranty claims, and what is covered under warranty?
Synder Filtration guarantees all of spiral-wound membrane elements to be free from defects in design, materials or workmanship for a period of 12 months from date of installation or 18 months from date of shipment…READ MORE
---
NEW PRODUCTS
1. How can I stay updated on recent news and product announcements?
New Products can be found within the Products section of our website. Besides the announcements made through our website, we also keep all four of our social media platforms up-to-date with all our latest news. Click below and follow our pages to stay updated on company and membrane filtration related news!
questions?
Fill out this form. We'll contact you within 24 hours!
---
CASE STUDY
---
Applications
---
Resources
MEMBRANE RESOURCES
Module Configurations & Processes
-> View all membrane resources
---
TUTORIALS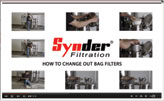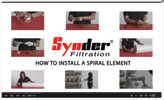 ---