Applications & Case Studies: Ultrafiltration Technology
Ultrafiltration membranes are an established process separation technology used in many industrial process applications worldwide. UF membranes have the unique ability to purify, concentrate, and fractionate of a large range of macromolecules and proteins, via a physical membrane barrier, ensuring very consistent rejection and flux performance.
ULTRAFILTRATION APPLICATIONS BY INDUSTRY:
Synder Filtration offers an extensive range of ultrafiltration pore sizes in both flat sheet and spiral-wound configurations. Many of these membrane formulations were developed to meet the specific process requirements of a specific customer. Because Synder is financially independent and family owned, we are able to consistently reinvest in our research and application development programs. As a result, we can customize membranes and spiral elements with great speed and flexibility, in order to better serve the process application needs of our customers.
CASE STUDY
---
Applications
---
questions?
Fill out this form. We'll contact you within 24 hours!
---
Resources
MEMBRANE RESOURCES
Module Configurations & Processes
-> View all membrane resources
---
TUTORIALS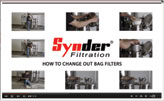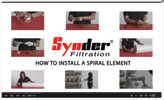 ---