Ultrafiltration Membrane Systems: Pilot & Full Scale
Synder Filtration designs and fabricates a wide range of tangential flow ultrafiltration membrane systems designed for specialty process applications. UF systems feature spiral-wound membranes, and can be combined with microfiltration, nanofiltration, and reverse osmosis systems and pretreatment equipment to deliver a complete turn-key separation process.

The first step in system manufacturing is meeting with our customers to gain a thorough understanding of the process goals in mind. Synder's development team then prepares a comprehensive test plan, including feasibility and pilot testing, to use as a basis for projections and full-scale system designs. Synder offers an array of ultrafiltration pilot systems with a full range of capabilities, controls sophistication, and price points.
Below are some examples of current pilot units available for rent, and commercial full-scale systems purchased over the past few years.
With operating pressures up to 120psi and durable SS304 or SS316 stainless steel construction, UF pilot tests can be performed under a wide range of operating conditions. Pilot studies are conducted either in the field or at Synder's Application Development Center in Vacaville, California.
IP55 rated UF system for the oil & gas refinery industry equipped with a temperature/control panel regulated through A/C, and specialized pumps controlled by VFD
UF-MF system used in the biotech industry containing individually isolatable bag filters & UF housings, as well as a pump with a soft starter.
EDUF system for use in the E-Coat industry containing basic temperature regulation.
Once the test results are collected, the engineering team engages to design the full scale membrane process solution. As an ultrafiltration systems manufacturer, Synder has the capability to fabricate, install, commission and support full-scale and multi-process (reverse osmosis, nanofiltration, ultrafiltration, and microfiltration) membrane systems. In every step of the process, we aim to deliver timely, knowledge, friendly service, and ultimately, application profitability to our customers.
Please contact us to find out more. You will receive a personal response from one of our experienced team members within 24 hours.
CASE STUDY
---
Applications
---
questions?
Fill out this form. We'll contact you within 24 hours!
---
Resources
MEMBRANE RESOURCES
Module Configurations & Processes
-> View all membrane resources
---
TUTORIALS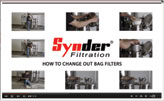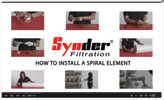 ---