Applications of Nanofiltration Membranes
Nanofiltration membranes are a relatively recent development, filling a void between two well-established technologies: reverse osmosis and ultrafiltration separation processes. One of the most exciting characteristics of nanofiltration membranes, is their ability to permeate monovalent ions, such as sodium chloride, through the membrane, while rejecting divalent and multivalent ions, such as sodium sulfate. This flexibility opens up many possibilities in the development of specialty process applications across multiple industries.
Synder Filtration is primarily focused on process applications, and so it was a natural fit to develop nanofiltration membranes to add to an already diverse product offering of ultrafiltration and microfiltration membranes.
NF APPLICATIONS BY INDUSTRY:
CASE STUDY
---
Applications
---
questions?
Fill out this form. We'll contact you within 24 hours!
---
Resources
MEMBRANE RESOURCES
Module Configurations & Processes
-> View all membrane resources
---
TUTORIALS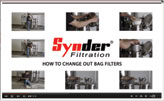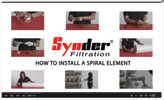 ---