Nanofiltration Membrane Manufacturing
In the production of nanofiltration membranes, a polymeric ultrafiltration membrane must first be produced. The ultrafiltration membrane acts as a support for the coating of a thin-film material onto the surface of the membrane, forming a "thin film composite" nanofiltration membrane, or TFC membrane. Sophisticated process control is critical to manufacturing a consistent and durable NF membrane.
Synder Filtration is an ISO-9001:2015 certified nanofiltration membrane manufacturer headquartered in Vacaville, California. As a nanofiltration membrane supplier, Synder is capable of manufacturing NF flat sheet membrane, spiral wound NF elements, and designing and fabricating NF systems as well. A custom membrane development program is also available for those wishing to obtain a unique membrane suitable for their specific processing applications.
Synder Inc. was originally founded in 1989 with a focus on industrial enzyme processing. The founders pioneered the use of spiral membranes in the industrial biotech field, but eventually became unsatisfied with the product quality and lack of technical support from their existing membrane supplier. After a futile search for alternative suppliers, the founders established Synder Filtration in 1994 as a custom membrane manufacturer focused on specialty process applications.
As a former membrane customer ourselves, we know how important it is for a nanofiltration membrane supplier to provide timely service, knowledgeable support, and fast lead times. As a financially independent family business, we are able to invest heavily in our inventory to ensure the fastest delivery times possible.
Please contact us to request more information. You will receive a personal response from one of our experienced team members within 24 hours.
CASE STUDY
---
Applications
---
questions?
Fill out this form. We'll contact you within 24 hours!
---
Resources
MEMBRANE RESOURCES
Module Configurations & Processes
-> View all membrane resources
---
TUTORIALS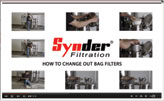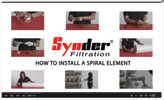 ---