Industrial UF Treated Membrane for Cathodic Paint Applications
V6 (PVDF 500,000Da)
Synder Filtration's Ultrafiltration Elements offer an optimal combination of both flux and rejection in a comprehensive range of MWCO's. Contact us today to learn more about our complete line of membrane products and services.
---
V-SERIES BENEFITS
The V-Series has a proprietary hydrophilic charge to repel paint particles and promote maximum flux rates.
The V-Series was specifically designed for processing cathodic paint, while the A6 is intended for processing anodic paint. V6 (PVDF 500kDa) is the most popular product for processing cathodic paint.
Membrane only requires one cleaning chemical plus acid. No other additives required.
Integrated end plugs allow for easy integration and removal.
Synder maintains the largest E-Coat-devoted sales, engineering, and support staff of any membrane manufacturer in the world.
---
RECOMMENDED OPERATING PARAMETERS
Operating Parameters
Typical Operating Flux
5-35 GFD (8-60 LMH)
Membrane Type
Synder Proprietary – PVDF Treated Membrane
Membrane Construction
Spiral-Wound with netted or fiberglass outerwrap
Maximum Temperature
Continuous Operation: 122°F (50°C)
Clean-In-Place (CIP): 110°F (43.3°C)
pH Range
Continuous Operation: 1-11
Clean-In-Place (CIP): 2-10.5
Maximum Pressure Drop
FRP Element: 35psi (241kPa)
Net Wrap Element: 17psi (117kPa)
Chlorine Tolerance
180ppm maximum per cleaning cycle
---
DIMENSIONS & WEIGHT
NOTES: Sometimes these designations may vary. Always consult Synder before ordering.
---
TECHNICAL NOTES
For element sizes not listed, please call or email Synder Filtration for details. We can design an element to fit your exact needs – just specify the element outer diameter (OD) or vessel/housing inner diameter (ID), element inner diameter (ID), and length. Elements are available with or without a controlled bypass tail. Additional feed spacers are also available.
Trials should be conducted to determine optimal application conditions.
Refer to installation, cleaning, and storage procedures for more details.
Applications
---
questions?
Fill out this form. We'll contact you within 24 hours!
---
Resources
MEMBRANE RESOURCES
Module Configurations & Processes
-> View all membrane resources
---
TUTORIALS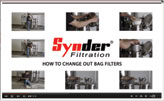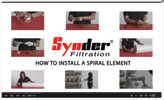 ---