Custom Membrane Systems
---
Sanitary Systems
Synder provides custom sanitary systems, and industrial systems with sanitary weld & component requirements. Many of the components are easily removeable and disassembled for cleaning, and have low interior surface roughness. From pilot units to production scale units, Synder's Engineering team will work closely with the customer from design to manufacturing to ensure the system meets all specifications.


standard sanitary features
Housing vessel
Stainless steel valves
Pressure gauges
Pump
Temperature sensor
Flow sensor
Custom tank with level sensor

sanitary system benefits
Sanitary compenents are easily removal and can be disassembled for cleaning. Fine surface roughness and sanitary designs also prevent build-up and potential contamination.

options and customization
Feed and booster pumps
Feed and product storage tanks
Custom system design and configuration
Automation and controls customization

Various PLC and controllers
Custom PLC program and alarm features
Custom touch screen HMI interfaces
Data logging
Remote monitoring

Wide selection of sensors and instrumentations to best suit the customers needs
Synder's Engineering team will work with the customer to allow our systems to be integrated into their facility seamlessly
Resources
MEMBRANE RESOURCES
Module Configurations & Processes
-> View all membrane resources
---
TUTORIALS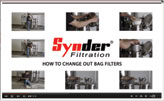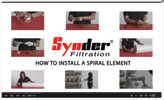 ---