Custom Membrane Systems
---
Nanofiltration & Reverse Osmosis Systems
Synder Filtration's high pressure nanofiltration and reverse osmosis systems are engineered for industrial process applications. Our expertise in custom-made equipment allows us to offer a wide range of different materials, instruments, and controls.
standard features

Onboard CIP system
Touch screen operator interface auto purge on shutdown
Stainless steel or epoxy coated carbon steel frame
Stainless steel pumps
Low energy membranes
Pretreatment Interlock
5 micron prefilters
Liquid filled gauges
PLC controller

Storage tank level
Inlet Valve
Inlet Pressure
Pump Pressure
Water Quality
Feed Pump

Touch-Screen HMI
Conductivity & pH (if equipped)
CIP Pump
Booster Pump (if equipped)
additional benefits

Reverse osmosis and nanofiltration membranes are a physical barrier to microbes
Lower operating cost than other industrial water purification methods
Portable cleaning/sanitizing systems
Low environmental impact and minimal chemical dosage required
Storage tank holds excess water, acting as a buffer tank
options
Storage tank with transfer pump
UV sterilizer for above
Booster pump
Chemical dosing
Matched pretreatment equipment
Cold water pump option
Data logging
Remote monitoring
Fully-automated CIP
Automated flow control
NOTE: Optimum design is based on representative feed-water analyses, and Synder Filtration offers no performance guarantees, either expressed or implied, without complete knowledge of the chemical constituents in the feed stream.
Resources
MEMBRANE RESOURCES
Module Configurations & Processes
-> View all membrane resources
---
TUTORIALS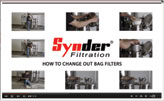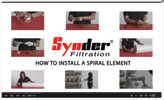 ---