Microfiltration: Spiral-Wound Elements
Microfiltration membranes are available in many different configurations, including hollow fiber, tubular, flat sheet, and spiral-wound. Synder Filtration currently offers 3 different microfiltration membranes available in both flat sheet and spiral wound element configurations. When pre-filtration is economically viable via bag or cartridge filtration, spiral-wound microfiltration elements are often preferred because they offer a balanced combination of membrane area per module, physical durability, membrane life, and unit cost. Spiral-wound elements are able to remove large particulates and bacteria, while passing through proteins, sugars, and mono/multi-valent ions.
Synder Filtration currently offers three different types of membranes in spiral wound microfiltration elements, available in both sanitary and industrial grades. With a molecular weight cut-off between 0.08-0.2µm, PVDF 800 (FR) is the tightest of the three, with PVDF V0.1 being the intermediary, and PVDF V0.2 being the most open in the range.
Synder Filtration offers a complete line of dry and wet microfiltration flat sheet membranes. With product sizes ranging from one square foot to tens of thousands of linear feet, Synder can supply flat sheet MF membranes for process research, pilot testing, spiral element winding, and for use in plate & frame membrane systems.
Synder can customize spiral wound elements and even develop new membranes for specific application processes upon request. Please contact us to find out more. You will receive a personal response from one of our team members within 24 hours!
TECHNICAL NOTES
For element sizes not listed, please call or email Synder Filtration for details. We can design an element to fit your exact needs – just specify the element outer diameter (OD) or vessel/ housing inner diameter (ID), element inner diameter (ID), and length. Elements are available with or without a controlled bypass tail. Trials should be conducted to determine optimal application conditions.
questions?
Fill out this form. We'll contact you within 24 hours!
---
CASE STUDY
---
Applications
---
Resources
MEMBRANE RESOURCES
Module Configurations & Processes
-> View all membrane resources
---
TUTORIALS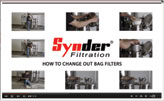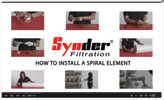 ---